| | |
| --- | --- |
| | CURL-MAKING (FORMING) MACHINE |
| | |
OUE HAIR CURL SETTING MACHINE, CW461-HH is used in making human hair Body wavy, Deep wavy, Curly, Afro kincky, Yaki curly, etc by setting the curl patterns by high temperature of heat of steam. 1) Equipped with INTELLIGENT NEURO -FUZZY TECHNOLOGY (Artificial Intelligence)

2) Fully automatic processing system specially programmed for processing (curling) human hair

3) Just press the " START" button on the control panel of the perming
machine (Hair Processor), all the processes will be completed automatically.

4) Just press the " START" button on the control panel of the perming
machine (Hair Processor), all the processes wil be completed automatically.
Product Code: CW461-HH-S
( for hair extension shops and small factoryies )
1) Processing Capacity
2 ~3 Kgs of Hair at a time, over 10 Kgs/day
< One time of process takes about 90 minutes.>

2) Inside Size
35cm x35cm x 60cm high
3) Outside Size
50cm X 60cm X 110cm (high)
4) Heater Capacity
3 KW
5) Net Weight
72 kgs
6) Size of a Wooden case(shipment)
80cm X 85cm X 110cm
7) Gross Weight in wooden case
120 KGS
8) Price:
Please email to us.
a) Training Fee
Please email to us.
b) Training period
2 days ( 5 hours/day)
c) Contents of the training course
Please see below
d) Contact Info for Enrollment
Please email to us.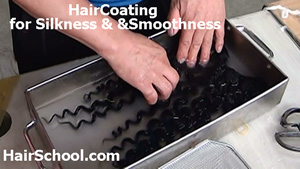 A: We train you to learn the basic techniques in making (forming) Curls and Waves such as Tempertures, Processing Times, Curl/Wave Shaping which are different according to Colors, Hair lengths, Hair Origins, Hair Types, Hair Conditions, etc.

We let you practise to understand the FORMULAS, SENSE, AND IDEAS.
(B) We let you know the materials to use in creating various ( or/and other styes of ) Waves and Curls
on Human Hair according to your particular customer's requests or for their hair fashions with Human hair
(1) in various & different conditions ( Hair Length, Color, Origin, etc) and
(2) for usage ( Wig-making, Weft-making, Braid-making, Bulk hair making, Hairpiece-making, Hair Extension-making, Toupee-making,etc ).
(C) We train you how to make Synthetic fiber wavy, curly, yaki-curly, kinky, etc in addition to the training for Human hair.
In your market, you can buy Hairpieces in genearl styles. But, your customers these days want different or particular styles !!! You can not be successful with general things or one thing only.
When you have our class for how to make Human Hair ( in bulk or weft) Wavy, Curly, Afro Kinky, Yaki-Curly, Body Wavy, Deep Wavy, Double Curly, etc , we let you have the SENSE OF PHYSICO-CHEMICAL KNOW-HOW so that you can CREATE & DEVELOP NEW STYLES AND DIFFERENT STYLES OF CURLS/WAVES not shown from general wigs, wefts, hair extentions selling at your downtown.

The below are a part of the various waves and curls (not all) produced by trainees during the tutoring class. The variety of curls and waves will be kept in secret before you make enrollment by paying for our Hands-On-Training Course.